The Two Or More Prayer Group meets every monday morning at 8:30. These ladies are on the frontlines of spiritual warfare. Please let us know if you have a prayer request so that these prayer warriors can "present all things with prayer and petition to the Lord."
Some of our Ballplayers at Intimidators Game!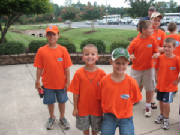 Children's Ministry
We have space for volunteers in a number of areas: KidStyle Worship on Sunday, adults for our outings, Wednesday nights & children's choir on Monday afternoons. Come join us! We're an active bunch!
Music Week - Caswell 2009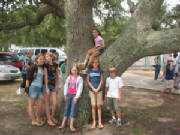 Youth Ministry
The Youth Ministry is always in need of volunteers, chaperones, and small group leaders. Please contact Dana Jenkins if you think you would be a fit to serve in this area.
Handy Man Ministry
Involved in ongoing local and interstate missions projects. Please contact us if you know of a need in the community. A group recently returned from a mission trip to Red Springs, NC.